1. Click on "Meetings" in your Zoom app
2. Hit the + symbol to schedule a new meeting.
3. Give your meeting a name [1] and then set it to be a recurring meeting [2].

Then select the option to generate a new meeting ID automatically [3]. This will generate a set of random numbers that will become your course's Zoom meeting ID.

Add a passcode to your meeting [4]. This will add another layer of security to your meeting. The passcode will become part of your meeting link so you can share the passcode with your students just by giving them the meeting link.

You can turn video on/off for yourself and your students [5] and also select whether you will allow students to call in to the meeting with their phone in addition to using the microphone on their computer [6]. Allowing students to use their phone to join their meeting is helpful in situations where the student may not have access to reliable internet.

Lastly hit "Save" to save this meeting [7].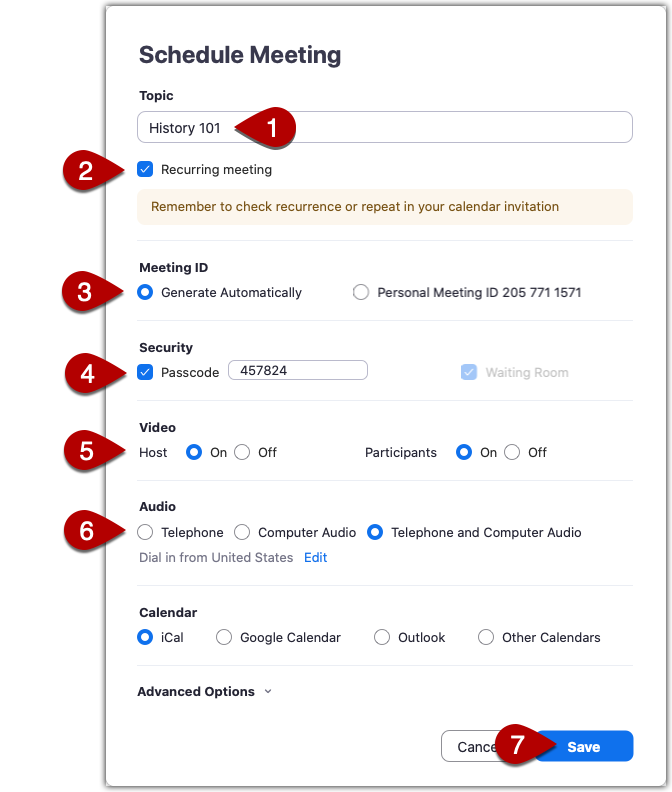 Share Your Course Meeting Link with Students 
Now that you have created a link for your course, you will want to give this link with your students by adding it to your Canvas course, sending it to students in an email, and/or including it in your syllabus. 
1. Find the meeting link by going to Meetings in your Zoom app [1] and click on the course meeting [2].
2. Click "Show Meeting Invitation."
3. Copy the meeting link. 
4. Share the meeting link in Canvas by adding it to your Homepage, the Syllabus tool or any other page using the Rich Content Editor or adding it to a Module.