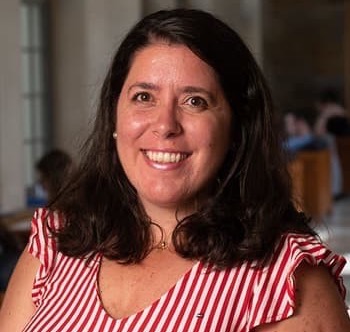 What are the title and description of the course?
"Modern Latin American History" is a lower elective course which usually has about 30 students. It's an interesting mix of some history majors and some students who come with no prior knowledge of Latin American history and/or this is their first history course. So, their historical skills are very diverse. We have a text book and we read a lot of primary sources, but something I want them to do in the course of the semester is to read at least one academic book. So, we do that for the midterm. Here is the course description:
This course surveys the history of Latin America and the Caribbean since independence. Through a combination of lectures and discussions, it provides a strong foundation of the major historical developments of the past two hundred years across the region. Although we will move chronologically, our discussions will swirl around five major themes: freedom and citizenship; modernity; resistance, rebellion, and repression; migrations; and the environment.
Why did you choose to use a creative assignment?
I don't consider myself an expert, but I really like to try out new things in class. Some things I've tried in the past include a lot of informal assignments: memes, jam boards, story maps, ArcGIS. The class that did these midterm assignments created websites for their final projects. For the midterm assignments, I was inspired by a blog post on The Unessay. My students liked that this project forced them to make connections that a more traditional exam might not have led to them making, and they had more control over the shape the assignment took.
What is the assignment?
The task of the midterm assignment is to synthesize a chapter of a book that we read together, The Pursuit of Ruins. Students need to present that synthesis in a creative way, and draw connections with what we have dealt with up to that point. This book is about nation making in Mexico in the 19th century and it talks about how the Mexican government gathered historical indigenous artifacts, using those artifacts to create a Mexican history that went beyond independence and included Aztec and Mayan civilizations. Through this, the government was hoping to position Mexico as a modern nation because it had all this history. Going into the project, everyone reads the introduction and the conclusion, and then everyone reads one chapter in a smaller group.
The grade includes three components, each of which were weighted equally when determining the midterm grade:
Producing a "thing:" the project

Presenting on the "thing:" group presentation of the final product, during which they argue why whatever they created is a very good way of presenting that chapter and connect the chapter to other conversations in class.

Reflecting on the "thing:" an individual essay where they reflect on their own contributions to the project, the challenges they encountered, and how they (as members of the group) helped solve those issues.
How did you scaffold the project for students?
I provided instruction at several different points (outlined below) and composed an FAQ list for students that I shared in weekly announcements. You should think of these questions in preparation for class. 
After reading The Pursuit of Ruins, answer the following questions. Try to tie the answers together, don't think of them as dislocated iterations but as parts of your understanding of the text.
General questions
What is the argument of the book?

What is the main research question(s)?

What is the book about?

How does the author position herself in the historiography?

What sources does the author use?

What is the structure of the book? How are chapters organized? How do they unpack the big argument?

Chapter-specific questions
What is the argument of the chapter? How is this argument connected to the main one?

What is the chapter about?

What sources and case studies does the author use to support her argument?

What works does the author cite in this chapter? What does this tell us about how she sees her work within the historiography?

What questions remain unanswered?

How does the chapter connect to the main themes of this course?

How does the chapter connect to any of the following themes? Nation-making, state-building, identity, capitalism, nature, heritage, locality, memory.

Group questions: Think of at least three questions about this chapter. 
These are not questions that are answered in the chapter but questions that emerged because you have read the chapter in depth.
What chapter should you read?

Group 1: chapter 8

Group 2: chapter 7

Group 3: chapter 6

Group 4: chapter 5

Group 5: chapter 4

Group 6: chapter 3

Group 7: chapter 2

Group 8: chapter 3

Group 9: chapter 4

Group 10: chapter 1
Class discussion
In class, share your responses with the other members of your group and work on a document that synthesizes the group's conversation.
I strongly suggest you put together a two-page document synthesizing your discussion. You will find it useful later. However, you won't need to submit anything this week. 
Learning Goals
[These goals appeared in every part of the mid-term assignment. These goals also align with the learning goals for the course]
By completing this project, you are demonstrating that:
You can identify basic and complex information in a text, such as arguments, sources, case studies, and place in the literature.

You can extrapolate arguments to make connection with other examples/arguments/case studies in Latin America.

You can summarize, analyze, and synthesize information from an array of sources, including historical documents.

You can build on other's work and cite them appropriately. This includes building on source commentaries or class conversations.

You can make connections between themes and texts.

You can communicate effectively and creatively.
Project Instructions
The goal of the project is that you demonstrate your understanding of the major themes we have discussed in class in the first part of the semester through the lens of The Pursuit of Ruins. While this will be your main focus, you should make connections to other readings, sources, class discussions, source presentations, or source commentaries. 
Simply put, imagine you are telling someone outside of our class what The Pursuit of Ruins is about, how your chapter bolsters its central argument, and what evidence the author provides to support her main and chapter-specific argument. As you explain this, your ultimate goal is to outline the importance of this book (why are we reading it?). For doing this, you will need to contextualize the book in other conversations that we had in class. 
What are "other conversations?"
In this context, I'm referring to any other discussions we had in class, other readings, sources, source presentations, films, and source commentaries. In what ways does your chapter and, more broadly, your takeaway from the first part of the semester relate to these other conversations? 
To organize your content, use the guiding questions from the class activity we did on Thursday, October 1.
You need to figure out: what you want to say (your message) and how you want to say it (your medium). As long as it's readable/listenable/watchable and outside of your comfort zone, I'm OK with it. You will be able to explain if something is outside your comfort zone in your individual essay. For instance, presentation technology is not out of my comfort zone, but it might be a creative medium for you and I absolutely respect that. I certainly encourage you to work in the analog world, but this is not a requirement and you will not be penalized for that. StoryMaps, however, are off limits. [StoryMaps was off limits because our final project used this software]
At heart, what have you learned in the first part of the semester and how can you show that? 
Examples
Examples I found online that might inspire you: 
Grading Rubric
Mid-Term Project

Criteria

Points

Medium

The project is readable/watchable/listenable. The format is reasonably creative. Even though creative licenses are allowed, the overall message is well-crafted and copy-edited. The medium is appropriate for the message it's trying to convey and does not force group to leave things out. The medium is attractive, leading the audience to trust the authors in their presentation, argument, and conclusion

7 points

Message

The project clearly summarizes, analyzes, and synthesizes the arguments from The Pursuit of Ruins, both the big argument of the book and the smaller argument in the chapter. The project clearly connects the argument(s) and case study/studies from the book to other themes that we have tackled in class, including through readings, primary sources, class discussions, and source presentations. The presentation is complete, truthful, and interesting, with a clear argument.

7 points

Overall

6 points

Total Points: 20
You will only have five-six minutes to present your project (we are a lot of people so I'll be strict on this!). The presentation is not a repetition of the project, but it is a contextualization of it, clearly showing what you did and why you did it.  We will agree on what a good presentation is in class. 
Submit a narrative of your contribution to the project. This shouldn't be longer than three pages (I suspect you will write around two pages).
What should you include?
Introduce the project, the group, and how you worked. Explain why the project that you did successfully shows you have achieved the learning goals listed above. 

Imagine this narrative as your argument for a good grade. This is the place to let me know the work you put into this project. 

Think of how you, as a group, organized the work and your individual contribution to that organization.

You should also include problems or hurdles that you, as a group, or you, individually, encountered and how you, as a member of the group, contributed to their resolution. This can be, for example, not finding the sources you had envisioned and needing to change the chronology of the project, or if one of you was finishing up a thesis, maybe the other one carried most of the responsibilities for a couple of weeks. 

Finally, think of what skills you used in this project and what skills you have learned/honed. 

Remember this is an essay. Use the 

Writing Standards

 and make sure to copy edit your work.
This happens very sporadically, but if one of you did not do the work you committed to do or did not uphold your responsibilities, this is the place to let me know, if you wish. 
How did you grade students?
I have to admit, the first time I assigned this midterm, I didn't have a rubric because I thought rubrics limited our students and they have to be creative for this project. And then, I heard in a podcast (that was not about teaching) that creativity usually blossoms when there are some boundaries. That led to me being more transparent with students about what type of project I was trying to guarantee when I assigned it this second time. The rubric for the final project has two components: the medium (the thing they produced) and the message they were trying to convey. For the group presentation, we created the rubric together and that was very interesting. The rubric was very helpful for me when I needed to grade, and for students to understand what "the thing" could be. The only rule I had was that whatever product they created, it couldn't be digital because our final project was going to be a digital project.
What lessons did you learn for next time?
There are things to improve with this midterm assignment. I found having smaller groups worked better than larger ones. The book has 8 chapters and, the first time I taught it, I put the 30 students in 8 groups, which ended up with overly large groups. The second time, we had groups of 2-3. Even though there were repeated chapters, it worked out much better for them. So I would certainly do that again. 
The rubric is also a work in progress. In the future, I want to have a more intentional conversation with students geared towards collaborative grading for the whole project. I did this for the presentation (we discussed what a good presentation looked like, what it should do, etc.) and I incorporated that into the rubric. But next time I want students' input into all components, especially the question of what is a creative assignment.
What did students submit?
A Newspaper
This is based on a chapter that reflected on the role of local communities contributing with their family heirlooms to local museums as a source of political prestige. The newspaper had four pages and was about the relationship between nation building, archaeology, and indigenous communities. Students took to heart the "danger of the single story" and incorporated different perspectives in the same newspaper.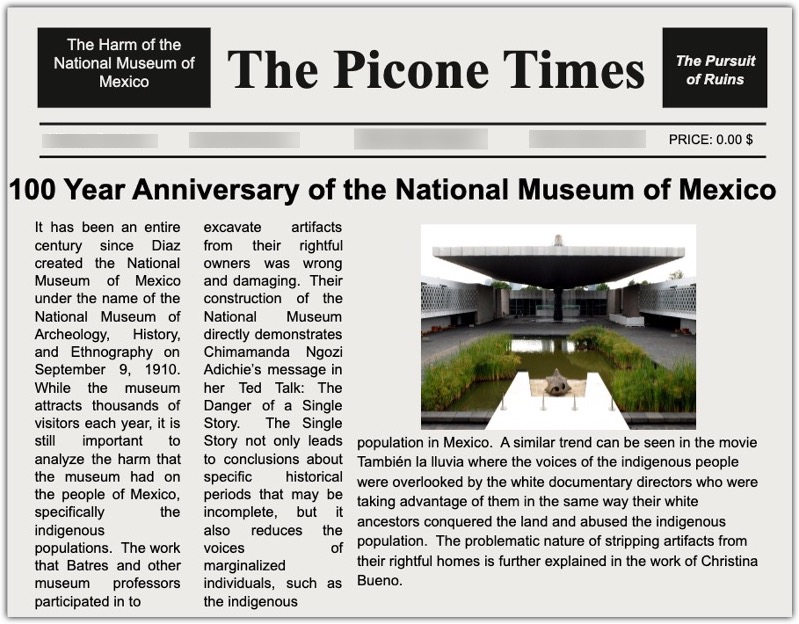 A Job Search Roleplay
This group focused on a chapter that analyzed how authorities used archaeology to portray Mexico as a modern nation with a well-developed discipline to learn about its own past. They simulated two job interviews, highlighting the differences between someone interviewed at the end of the nineteenth century and today. In doing so, they reflected on the skills archaeologists brought to the Museum to make it truly 'national.'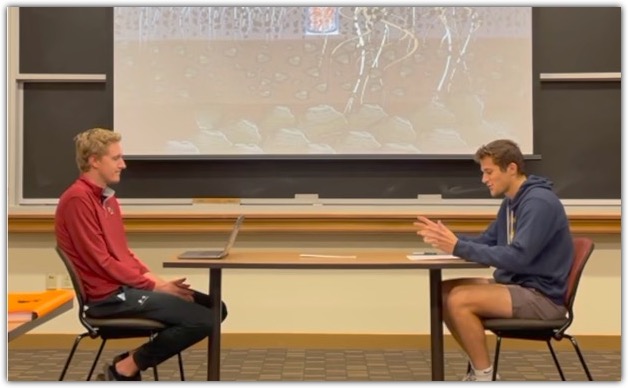 A Guided Tour of Mexico's National Museum
This group had the same chapter as the group before, but their project is entirely different. They sought to show archaeologists in the museum they created, bringing together ancient history to their present moment. Their reflection highlighted the role of archaeologists in creating a modern nation not because of the artifacts they exhibited but because of the techniques they employed.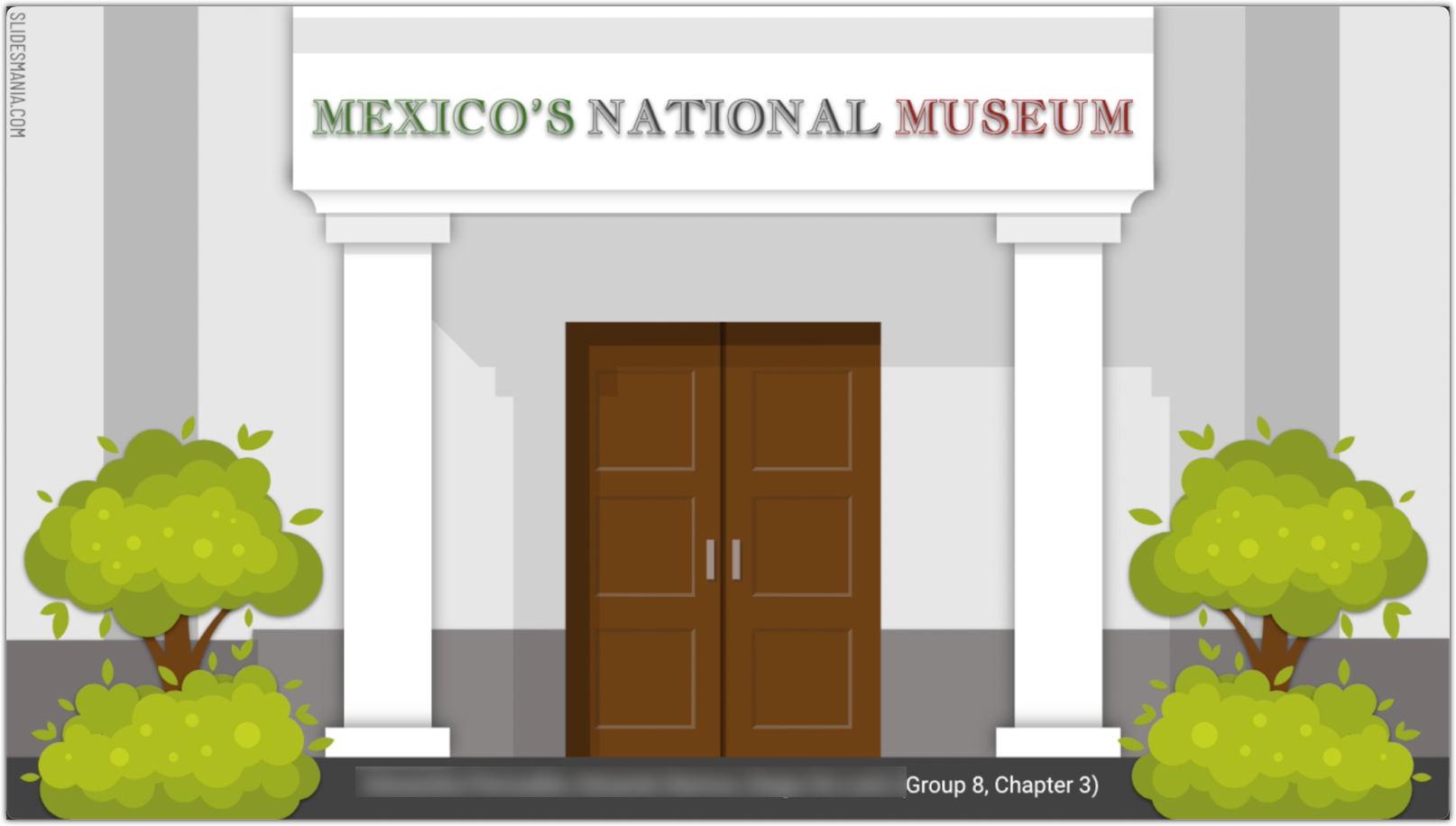 A Podcast
This group focused on a chapter centered around the main archaeologist in the National Museum, Leopoldo Batres, in his role as Inspector General of monuments. Batres lobbied for laws that centralized authority over sites and artifacts in his office, undermining states' power to claim their own heritage. Students decided to present Batres in an interview, while making connections to other class themes. 
A Who Dunnit
This project synthesized a chapter about different people (locals, foreign explorers, and some archaeologists) that were interested in different types of artifacts. One group decided to do a "Who Dunnit" based on the type of artifact that these people would have stolen. They organized a brief mystery-solving activity in class to explain what suspect might have stolen which artifact and why.
Board Game
A popular option was a board game. There was a chapter that lent itself to this because it talked about the moving of artifacts from the site of extraction to the National Museum in Mexico. One of the board games illustrated the challenges of that movement, including the corruption in the system, the environmental difficulties that they encountered, and the muddy roads.
Additional Resources
Here are some CTE-curated resources about the unessay, for anyone who wants to explore this idea further. These resources were shared at a roundtable on "Just Assignments: Rethinking Student Work in the Victorian Studies Classroom" at the 2022 North American Victorian Studies Association conference"