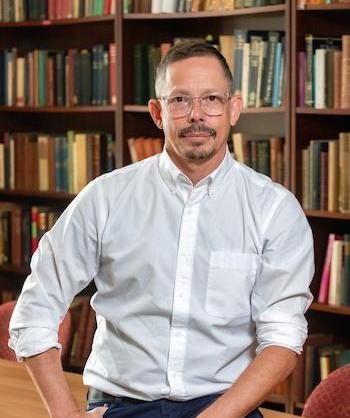 What is the context for this course?
My course Senecan Tragedy: Medea Nunc Sum was aimed at students with a minimum of two years of Latin experience at the college level or those who had studied a substantial amount of the language at high school (such as AP Latin). For this iteration of the course eight students enrolled – including three freshmen! Students read up to 110 lines of Latin poetry per week as well as approximately 30–40 pages of secondary scholarship.
As Seneca's Medea wrestles with committing the ultimate act of vengeance, the murder of her own children, she recognizes that she has become the figure she was always destined to be famously saying 'now I am Medea' and so simultaneously acknowledges her mythic and literary pedigree while preparing to commit her trademark outrage upon the Roman stage. In my course students read the entirety of Seneca's tragedy Medea in Latin, comparing this imperial Roman portrayal of the Colchian sorceress to her earlier Greek incarnations and examining the elemental force of her anger through reading portions of Seneca's philosophical treatise On Anger.
Why did you choose to use a creative assignment?
It is easy to forget when studying ancient tragedies that they were created not to be read but rather to be seen and heard in performance (though for Seneca's dramas scholars debate fiercely about how, or indeed whether, these plays were originally produced for the stage). For Medea Nunc Sum I designed a creative project that would necessitate the students turning the Latin text on the page into a lived, performed experience in the form of a YouTube video.
Students were tasked with selecting 30–50 lines of the original Latin text and filming a short scene performed in Latin with their own English translations provided as subtitles (each video came in at around 4–5 minutes). In addition to getting students to consider more deeply how an ancient text might be embodied and engage an audience successfully, I designed this assignment for students to work more closely with a short portion of Seneca's text, to hone their translation skills, and to get experience of speaking Latin in a dynamic and meaningful manner.
What prompt did you share with students?
Here is the assignment prompt I shared with students. 
How did you scaffold the assignment for students?
In the beginning portion of the semester students first had to select a portion of the play and write a creative concept, which explained some of their dramaturgical choices: when or where their film would be set; what manner of English translation they would write (poetic, closely adhering to the Latin sense, more free flowing); and how they would practically realize their vision (who would film, perform, etc.). Next, students completed a more 'traditional' grammatical and literary commentary on their selected excerpt that allowed them to explore the complexities of the Latin grammar and research scholarly interpretations on their text, as well as producing an initial, and purposely literal, translation.
In the second half of the semester students received a dedicated training session from BC's Digital Scholarship Group on techniques for filming (using smart phones), editing footage (using freely available platforms such as iMovie), as well as captioning and uploading their projects onto YouTube. In the final week of classes we had a viewing session of all the projects in sequential order — accompanied, of course,  with popcorn — that allowed students not only to compare their respective adaptations of the play but also to review several sections of the Latin they had encountered throughout the semester.
How did you grade students?
The various components of the course were graded either as complete/incomplete (i.e., creative concept, training session) or for letter grade (i.e., final project). While the commentary assignment was in a sense a separate entity, since it followed the format of a more traditional assignment for an advanced language class such as this, it still informed and supported the creative project in a way that felt genuinely useful to the students.
In grading the final projects, from the outset I made it clear that students were not being assessed on their abilities as filmmakers. This was a project about process rather than product. Instead, I determined students' letter grade using a written reflection, which they were required to submit alongside their completed video. This reflection asked them to discuss how their project related to our course materials and themes, and how making their video had informed or altered their understanding of Seneca's tragedy.
How did the students do?
The students produced final projects in a range of filmic styles: modern-day, tragi-comic, abstracted, animated — one even realized the acerbic interchange between Medea and her husband, Jason as a TikTok battle. What was particularly interesting was when two students had chosen the same portion of text but had interpreted it completely differently: allowing us to compare and rethink our understanding of the passage in question. The pronunciation of the Latin was obviously a challenge both for the students and their ad hoc performers — students got family members and friends to participate in many of their projects — but it did allow them to experience the various sound effects employed by Seneca and to experience the dramatic weight of his Latinity. Most importantly it allowed students to actively engage with the Latin language. (Oftentimes students will read Latin silently and often somewhat sheepishly if needing to do it in front of their peers; this assignment allowed them an opportunity to finesse their recitation skills in a deliberately dramatic manner.)
Here are two student videos. They are in Latin, with English subtitles.
What lessons did you learn?
This is the second time I have run this assignment for an advanced language class and I think the key to its success has been in scaffolding the project throughout the semester. The other key component has been to emphasize to students repeatedly that the goal of the project is what they can learn through doing rather than how professionally their film turns out. I could not have done a creative project like this without the excellent support provided by Melanie Hubbard and her team in Digital Scholarship or indeed without the students themselves being so willing to experiment. 
Note: The Digital Scholarship Group,  part of the University Libraries, provides guidance on digital scholarship and digital pedagogy curriculum design, particularly for coursework focused on the critical use of digital tools for conducting and presenting research. For more information, see the Digital Scholarship Group website or email digitalscholarship@bc.edu.