Canvas SpeedGrader allows instructors to respond to students' assignment submissions, with options for commenting and adding annotations to submitted documents.
SpeedGrader can be accessed through the "SpeedGrader" link on the top right corner of any assignment page.
SpeedGrader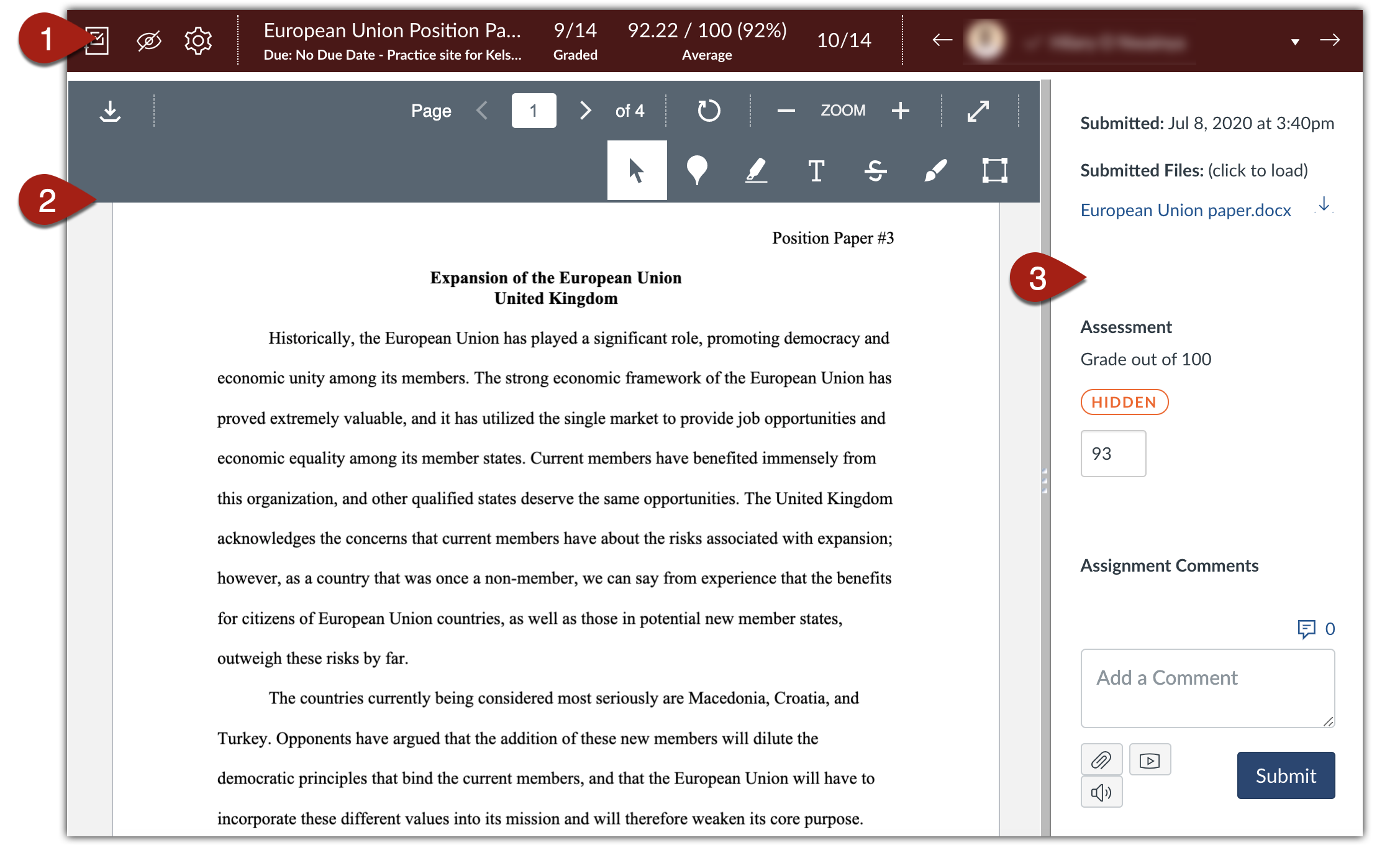 [1] A panel at the top that allows you to navigate to the Canvas Gradebook, release comments and grades to students, adjust grading settings, and navigate between student submissions.
For more information on releasing comments and grades to students, see our guide to the Canvas Gradebook. Although you can release grades directly from SpeedGrader, some instructors prefer to use the Gradebook page, which gives more visibility into which grades will be released.
[2] A full view of each student submission on the left of the page. Certain uploaded file types will be viewable in Canvas DocViewer, which provides options for annotating documents. For instructors who may be used to annotating student assignments in Microsoft Word or another word processor, the DocViewer provides an alternative that eliminates the need to download files locally to a computer and reupload them to Canvas.
If students are unsure of how to see your annotations, you can direct them to Canvas' guide to viewing instructor feedback.
[3] A panel on the right that allows you to input a grade, write assignment comments separate from a submitted document (or save comments you'd like to reuse for multiple students), and upload attachments or video/audio files. Some instructors have found that the audio and video upload options provide a way to give feedback with a more personal tone.
For more information on specific SpeedGrader features, see Canvas's SpeedGrader guide.